Regular price
Sale price
$8.00 USD
Unit price
per
Sale
Sold out
Shipping only available to Colorado addresses.

Since these products are produced under the Colorado Cottage Foods Act, shipping is only available to Colorado addresses.
Join the list so you will be the first to know when we can ship out of Colorado!
With our easy-to-follow instructions, making your own tortillas at home has never been easier!  Simply add water to the mix, knead the dough, and roll out your tortillas.  Now you can enjoy freshly made tortillas whenever you want!  You can enjoy a stress-free meal every time with our tortillas, even when you load them up with your favorite fillings, as they won't fall apart under pressure.
Our Original tortillas are not only delicious but also naturally gluten-free, grain-free, and vegan-friendly, making them a great choice for everyone including those with dietary restrictions.
These tortillas offer a unique and delicious taste that can be enjoyed on their own or used as a base for a variety of dishes, including tacos, burritos, quesadillas, enchiladas, and wraps.
1-pkg - makes six, 6-7" taco size tortillas OR four, 8-9" wrap size tortillas.

3-pkgs - makes eighteen, 6-7" taco size tortillas OR twelve, 8-9" wrap size tortillas.

To make wrap size tortillas

Pour mix into a medium or a large bowl, stir. Stir in 1 ½ cups hot water with a fork until combined. Let sit for 1 minute. Turn dough out onto a mat and knead a couple of times until dough is smooth. Divide into 4 equal balls, about 1/2 cup. Between 2 pieces of parchment paper, roll out (or a tortilla press), to a least 9" (they will shrink). Keep dough balls in the bowl covered with a damp cloth while cooking the other tortillas. Preheat a large non-stick
skillet or griddle on medium to medium-low.
1. Lay tortilla on the skillet, cook for 2 minutes. 2. Flip and cook for 2 minutes. 3. Flip a second time and cook for 1 more minute. If tortilla puffs up like a pillow, press it down with your spatula. Remove from heat. Cool tortillas on a rack. Serve warm.
Warming directions

Pre-heat a skillet over medium-low. Place tortilla in skillet and flick some water on to your tortilla with your fingers. Flick some water onto a lid and cover your tortilla. Heat until tortilla is warm and is steamed.
Freezing directions

Freeze tortillas in a zipper bag. Thaw tortillas in the refrigerator before warming the tortillas.
Cassavaberry™ mixes are a Cottage Food

The products are produced in a home kitchen that is not subject to state licensure or inspection and that may also process common allergens such as tree nuts, peanuts, eggs, soy, wheat, milk, fish, sesame and crustacean shellfish. These products are not intended for resale.
Share
View full details
So delicious and easy to make
These tortillas are great, it is so nice to have an option to make healthy tortillas at home that contain only a few simple ingredients, nothing unhealthy. They are so soft and delicious when you make them, I love them for so many things such as wraps, tacos, etc. You can even put jam in them for a sweet treat similar to a crepe!
It was love at first bite!
It was love at first bite with these tortillas! They are the super tasty! They are so simple to make- just add water- and I freeze them to always have them on hand. The texture, is firm and they don't fall apart or get soggy when they're packed full of juicy ingredients or when I thaw out tortillas I've frozen. I also love that they are made with simple ingredients, free of allergens, and don't contain harmful
additives, preservatives or oils. These tortillas are truly one of a kind and are now my go-to choice!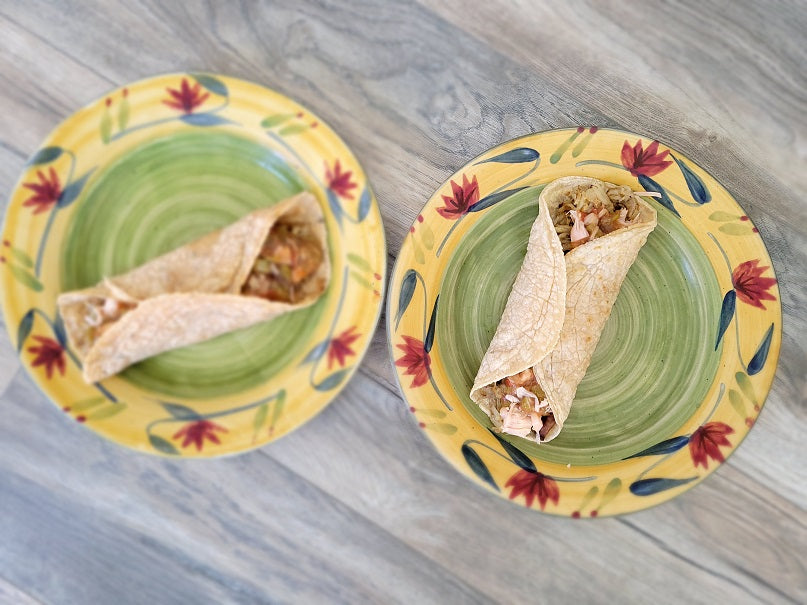 Vegan Breakfast Burrito!
Make tortillas using the wrap size tortilla instructions. Stuff with hasbrowns, green chile, sauteed mushrooms and seasoned jackfruit.